Finding the right self-regulating technique for a child who lacks physical, emotional, attention or social skills can be difficult — each child is unique and so are their regulation needs.

Get tools, techniques, and strategies in a new online course, Self-Regulation for Children and help children who have trouble self-regulating be able to function soundly with their day to day events. Through six video sessions, Teresa Garland, MOT, OTR/L, will teach the whole team — OTs, PTs, SLPs, School Counselors, Psychologists, Social Workers, Teachers and Parents — effective customizable strategies for long-term treatment that you can use at the clinic, home and school.
Customize a self-regulating strategy to fit each and every child...
Fill your treatment toolbox with dozens of practical interventions!
In this convenient online course, Teresa Garland, MOT, OTR/L, looks at the underlying factors of poor self-regulation and how they affect a child. She will teach you how to
create simple, but effective programs
in clinical, school and home settings: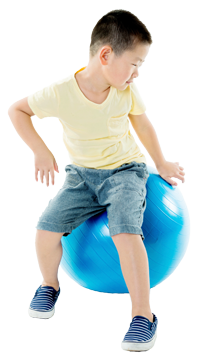 ✔ Sensory therapy techniques
✔ Simple self-management and video modeling
✔ Sensory lifestyle
✔ First person stories
✔ Energy regulation techniques

✔ Emotional regulation techniques
✔ Communication methods
✔ Transition strategies
✔ Behavioral Strategies

You'll learn about clinical programs such as Metronome®, Sound Therapy, and Emotional Freedom Technique (EFT™), as well as timely topics such as medication vs. non-medication for ADHD and new insights from research into biomedical aspects of autism. With experience in schools, sensory clinics and medical settings treating sensory disorders, ADHD and autism, Teresa will guide you through an intervention-heavy course so you can walk away with solutions you can begin using immediately.

Limited Time Offer!
Self-Regulation in Children
Keeping the Body, Mind & Emotions on Task in Children with Autism, ADHD or Sensory Disorders
Valued at $239.98

— TODAY ONLY

$99.99
Earn up to 7.25 CE Hours!

Expand on your treatment toolbox for use in the clinic, home and school. Here's what you'll learn in this extensive online course:
How Self-Regulation Affects a Child's Physical, Mental and Emotional Wellbeing
• Overlay of systems
• Overlap with sensory modulation disorder
• ADHD, autism, giftedness, anxiety and related conditions

Sensory Processing Disorder (SPD)
• Vestibular, proprioceptive, and sensory modulation characteristics
• Strategies for home and school
• Making it right: case studies and videos
• Sensory diet vs. a sensory lifestyle
• The big therapies: Interactive
• Metronome®(IM), Sound Therapy, brushing and sensory diets

ADHD Strategies
•Parker's guidelines for giving meds
• Greenspan's strategies for avoiding meds
• Cognitive strategies, attention strategies and mindfulness meditation

Self-Management
• As a powerful behavior program for ADHD
• Case study on breaking "stimming" habits
Utilizing Video
• Role play & video modeling
• Teaching functional skills
• Catching child "being good"
• Working with Emotions
• Art and music
• Emotional Freedom Technique (EFT)
• Polyvagal Theory and autism

Autism
• Communication strategies that provide control
• Match-and-repeat technique for social engagement
• Dealing with picky eating and poor sleep habits
• Behavioral strategies for eliminating difficult behavior

First Person Stories & Strategies for Smooth Transitions
• Discuss social interactions
• Describe relevant social cues and behaviors
• Examples of transitional activities

Other Approaches
• Music Therapy
• Qi massage

Calming Strategies
• Music, Me-Moves™
• Deep pressure, Ease™

BONUS VIDEO — A $50 Value (CE Included)
Story-Based 4- and 7-Minute Workouts for the Classroom and Home
Teresa Garland, MOT, OTR/L
Learn story-based high intensity interval training (HIIT) that are fun and will make children giggle as they get in shape. These routines make children strong and give them on-the-spot regulation. We look at three 4-minute classroom routines and a 7-minute home routine. And learn how to make your own FUNterval. You'll also learn about high intensity interval training (HIIT) and how intensive exercise helps children to self-regulate.

• On-the-spot regulation through story-based exercise routines
• 4-minute workouts to increase attention
• Calm and manage stress through high intensity interval training
• Create your own story-based routines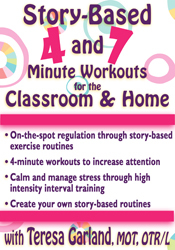 About Your Presenter
Teresa Garland, MOT, OTR/L
, is an occupational therapist and author specializing in sensory and modulation issues. She has worked in schools, sensory clinics and medical settings with children and adults, treating sensory disorders, ADHD and autism. Ms. Garland works closely with other health professionals, teachers and doctors to understand and treat underlying sensory, timing, and coordination/motor planning issues as well as overlying socio/emotional behaviors in the symptoms of autism. She is trained/certified in the SIPT, Interactive Metronome®, Integrated Listening Systems (iLs), Therapeutic Listening, Wilbarger's Sensory Defensiveness, the Natural Heart Approach, Mindfulness Training, and Food Chaining. Her bestselling books are titled Self-Regulation Interventions and Strategies: Keeping the Body, Mind and Emotions on Task in Children with Autism, ADHD or Sensory Disorders and Hands-on Activities for Children with Autism & Sensory Disorders. She writes a blog at
otselfregulation.blogspot.com/
.
Speaker Disclosures: Financial: Teresa Garland is an author for PESI Publishing & Media and receives royalties. She receives a speaking honorarium from PESI, Inc. Non-Financial: Teresa Garland has written case studies for Interactive Metronome®. She writes a blog on self-regulation (otselfregulation.blogspot.com).
---
---
Learning that First YOUR Schedule:


Online message boards to collaborate with other professionals taking the course. You'll be part of a community of hundreds of professionals all focused on improving therapeutic outcomes.


Access to all materials online and video downloads forever! Plus, use the PESI Mobile™ app to access the course content on-the-go, wherever and whenever you want on your mobile devices.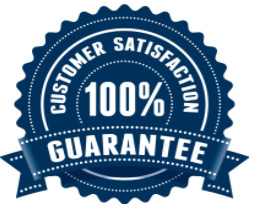 100% satisfaction guarantee
— If you're not completely satisfied, give us a call at
800-844-8260
. We're
that confident that you'll find this learning experience to be all that's promised and more than you expected.

Don't Miss Out!
This Price Won't Last Long!