Dialectical Behavior Therapy (DBT) is one of the fastest growing approaches — because it works! It harnesses the power of CBT and mindfulness in a strategic way that gets results.
And now you can learn how to share and adapt the evidence-based DBT model for children and adolescents in practical and engaging ways — tailored to their unique developmental needs.
Join DBT expert Jean Eich, Psy.D, LP, to discover how DBT can help the kids you work with manage out of control behaviors and emotional regulation deficits that can often be associated with ADHD, attachment disorder, ODD, eating disorders, anxiety, depression, substance abuse and more...
You'll get step by step instruction on how to use mindfulness strategies and techniques that will help young clients observe and identify moments of distress, master skills to manage their emotions and behaviors, and develop communication strategies to talk about how they're feeling so they can maintain healthy, positive relationships.
This course will help make even your most challenging child and adolescent clients easier to treat by showing you step by step how you can use DBT in a fluid and flexible way specific to your clients — so you can help transform treatment outcomes and improve the health, well-being and happiness of today's youth.

Dialectical Behavior Therapy Skills Training for Children and Adolescents:
Rescuing the Dysregulated Child
Valued at $229.98
Today Only
$149.99
— An Unbelievable Value!


Learning DBT will change your clinical work with children and adolescents...
In this comprehensive, 5-module online course, expert Jean Eich, PsyD, LP, will give you the skills training you need to successfully implement DBT into your work with children and adolescents. Here's everything included in the online training course:


Dialectical Behavior Therapy (DBT): The Basics
You'll begin your training by exploring the fundamentals of DBT. Join Jean as she shows you how dialectics can be used to treat the whole person rather than a disorder or illness, and how practicing an extreme form of acceptance will help drive change in your clients of all ages. You will also take an in-depth look at...
Key ingredients of effective DBT practice
Effects of inadequate validation in early emotional development
Symptoms of a pervasive emotional dysregulation disorder

Informing Treatment Based on Developmental Stages and Tasks
In module two, you'll explore how the developmental stages of children and adolescents can be used to guide and inform your treatment plan. Join Jean as she shows you how to create an environment that allows children and teens to learn and practice their new skills and abilities. Together, you will explore...
How to use developmental stages as a guide for what is typical or beyond typical in a child or teen's presentation
Strategies to support development for adolescents adjusting to a changing body
Tools for helping children establish an identity, develop responsibility and build autonomy

Dialectical Philosophy and Treatment Structure
Begin module three by examining the standard dialectical dilemmas and how these dilemmas change for children and adolescents. You'll then learn the structure and treatment stages that will guide your decisions on what to treat and when. Finally, you'll cover how to measure your client outcomes to help improve treatment and success of clients.
How to structure therapy and the environment to create safety, predictability and success
Including parents in the treatment process
Using the DBT stages and targets to keep therapy on track
Adapting targets or goals to fit the needs of your client
The 5 functions your therapy program needs
Creating an effective skills training environment for children of all ages

Skills Training: Mindfulness, Distress Tolerance, and Emotion Regulation
In module four, you'll learn how to use skills training to help decrease maladaptive behaviors while increasing adaptive behaviors. Jean will show you step by step how to integrate skills into your therapy practice and the methods you need to effectively teach skills training to children and adolescents.
How clients can use Mindfulness to be planful and responsive
Strategies for accepting reality, including radical acceptance
Survival skills to get through a crisis without making it worse
How to increase clients' abilities to copy with future stress
Tools to reduce emotional suffering and vulnerability and increase positive emotions

Behavior Modification and DBT
In the final module, you'll complete your skills training knowledge by learning how to teach your clients interpersonal effectiveness skills. You'll then explore age appropriate interventions and strategies for validation, reciprocal communication, behavior chains, diary cards and more. Finally, you'll discover how to use your new DBT skills when working with depression, anxiety, eating disorders, substance abuse, PTSD and trauma, ADHD, ODD and attachment disorder.
Tools for helping clients build and maintain healthy relationships
Validation and alignment interventions to help regulate emotions and decrease their intensity
How to utilize DBT agreements with parents and clients
Strategies for helping caregivers reinforce the child's new skills and healthy behaviors
Using diary cards to track symptoms and skill use
Adapting DBT for many diagnoses

Dialectical Behavior Therapy Skills Training for Children and Adolescents:
Rescuing the Dysregulated Child
Valued at $229.98
Today Only
$149.99
— An Unbelievable Value!


Enroll today and you'll get this
FREE BONUS

!
PDF Download | Dialectical Behavior Therapy Skills Training with Adolescents: A Practical Workbook for Therapists, Teens & Parents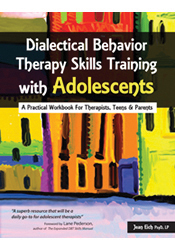 Just think if you had a go-to book that would help solve your toughest challenges when working with troubled teens. Now you can get a complete skills training manual for DBT with adolescents, focused on practical application for teens, parents and therapists, all in one comprehensive manual.
Part One covers DBT for teens with comprehensive and age-relevant skills explanations, examples, applied worksheets and teaching pages for all four DBT skills training modules.
Part Two is a dedicated focus for parents with pertinent information on DBT, parenting, and common teenage developmental issues.
Part Three is filled with practical strategies on how to conduct DBT programming, tips to navigate dialectical dilemmas with adolescent developmental tasks and behaviors, and advice to balance therapy with parental involvement.

Dialectical Behavior Therapy Skills Training for Children and Adolescents:
Rescuing the Dysregulated Child
Valued at $229.98
Today Only
$149.99
— An Unbelievable Value!


About Jean Eich, PsyD, LP
Jean Eich, PsyD, LP, is a Licensed Psychologist and has experience working in hospital, school, private practice, and community mental health settings. She has provided DBT services for 8+ years at the largest DBT clinic in the Minneapolis/St. Paul area. Dr. Eich has developed, facilitated, and coordinated DBT programming for adolescents and their parents. Additionally, she has written curriculum and facilitated programming for adults with mental illness and developmental delays and has helped to design and maintain studies examining clinical outcomes of DBT programs. Dr. Eich is an adjunct assistant professor in the Masters of Counseling and Psychological Services program at St. Mary's University. She currently serves clients at her private practice, Maplewood Psychology, where she continues to assist adults and adolescents with a variety of mental health concerns.
Speaker Disclosures: Financial: Jean Eich has an employment relationship with Watercourse Counseling Center; Fairview Hospitals; and Maplewood Psychology. She is an adjunct assistant professor at Saint Mary's University. Dr. Eich is an author for PESI Publishing & Media and receives royalties. She receives a speaking honorarium from PESI, Inc. Non-financial: Jean Eich is a member of the American Psychological Association; and the Minnesota Psychological Association.

Learning that Fits YOUR Schedule:

Watch your email for your order confirmation
, and get instant access to all
5 modules of comprehensive training
plus the FREE Bonus — all designed to help you effectively integrate DBT into your practice. Review all the course materials at your own pace and at your convenience!
Click here for course objectives and outline
.

Access all course videos and materials online forever. Plus, use the PESI Mobile™ app to access the course content on-the-go, wherever and whenever you want on your mobile devices.

Instantly collaborate with other professionals on the course materials through interactive message boards. You'll be part of a community of hundreds of practitioners all focused on understanding DBT skills for children and adolescents, providing valuable opportunities to share insight and experiences and to build your professional network.

100% Satisfaction Guarantee
Register for this comprehensive training course without risk. If you're not completely satisfied, give us a call at 800-844-8260. We're that confident that you'll find this learning experience to be all that's promised and more than you expected.
Dialectical Behavior Therapy Skills Training for Children and Adolescents:
Rescuing the Dysregulated Child
Valued at $229.98
Today Only
$149.99
— An Unbelievable Value!

---