Join renowned trauma expert Gabor Maté and experience how to quickly get to the
core of client suffering — to achieve profound, lasting transformation.
As clinicians, we need to be able to identify and understand our clients' issues at their deep and complex roots.
That can be incredibly challenging and time-consuming, often requiring therapists to search, week after week, in the hopes of uncovering the true source of pain.
Renowned speaker and physician Gabor Maté is an expert at achieving rapid breakthrough results with even the most difficult mental health problems.
After spending decades working with drug addiction and mental illness from an up-close, personal perspective, he developed Compassionate Inquiry — an approach that takes the simple act of asking questions…
…and transforms it into a powerful intervention that gets to the heart of client suffering more quickly and effectively than you likely ever imagined possible.
Now in this unique online course, you'll experience Gabor Maté's Compassionate Inquiry
approach in action with multiple, real client scenarios.
Get a front-row seat as Gabor demonstrates his method by working with dozens of audience members, one at a time, without any prior awareness of their struggles.
You'll learn the methods he uses to address substance abuse, infidelity, relationship issues, trauma, childhood attachment wounds, and so much more…
…while establishing a healing environment that even includes dance, laughter, and music.
Register today and get a rare glimpse at one of the most profound healers of our time working with the clinical issues you see in practice every day!
Gabor Mate's Compassionate Inquiry in Action:
An Experiential Course for the Healing of Deep Traumatic Wounds
Just $299.99 Today — Stunning Savings!
Reviews for Gabor Maté's latest book, The Myth of Normal !
"This riveting and beautifully written tale has profound implications for all of our lives,
including the practice of medicine and mental health."
— Bessel A. van der Kolk, MD, NYT bestselling author of The Body Keeps the Score
"Maté is a guide through the dangerous forest of our minds and our society,
not letting us ignore the darkness but ultimately showing us the light."
— Marianne Williamson, New York Times bestselling author, A Return To Love
"Maté offers us a way to bring clear seeing and a greatness of heart to the crisis of our times."
— Tara Brach, author of Radical Acceptance and Radical Compassion
"Our culture is, indeed, very sick and I don't know of a better diagnostician of and physician for it than Gabor Maté.
This book contains a prescription that, if we have the courage to follow, will heal us all."
— Richard Schwartz, creator of the Internal Family Systems Model
"
The Myth of Normal
is a detailed and wide-ranging look at what we all need to know—but all too often fail to live into—
when it comes to human health, sanity, maturation, and happiness."
— Resmaa Menakem, bestselling author of My Grandmother's Hands, The Quaking of America, and Monsters in Love
---
WHAT YOU'LL DISCOVER IN THIS COURSE
Join Gabor Maté for four highly engaging modules where you'll experience his Compassionate Inquiry approach in action as he works with multiple, real clinical issues, including: substance abuse, infidelity, relationship issues, trauma, childhood attachment wounds, early childhood ruptures, and more.
Discover first-hand how he achieves rapid connection and insight, leading to breakthrough results!
---
Module 1 | Getting to the Truth of Trauma Using Compassionate Inquiry
In this module, Gabor explains exactly how to help clients discover the roots of their suffering. Going beyond individual experience, he also reveals how civilization and culture have fueled fear and disconnection, making us more vulnerable to trauma.
Watch as Gabor demonstrates the discovery process using case examples and live interaction. You will learn how to use Compassionate Inquiry to help your clients:
Rethink their behavior
Get to the root of addiction
Develop a better understanding of themselves
Increase self-compassion and awareness
---
Module 2 | Developing a Deeper Understanding of Trauma
In the second module, Gabor begins by providing a new way of defining and understanding your clients' experience with trauma. Watch as your peers get their specific trauma questions answered through a series of dialogues with Gabor. Then see, first-hand, how Compassionate Inquiry leads clients to:
Find compassion for their pain
Reclaim authenticity after trauma
Move from guilt to forgiveness
---
Module 3 | Moving Beyond the Past to Find Well-Being in the Present
Discover how to confidently guide your clients through painful emotions to reconnect with their "True Self." Go even deeper into the method of Compassionate Inquiry through lecture, conversation, and demonstration as you learn how to:
Create a sense of safety in the therapeutic alliance
Decode a client's present experience by understanding their past
Help clients release anger and move towards healing
Assist clients in safely reconnecting with themselves
---
Module 4 | Bringing Authenticity into Compassionate Inquiry
In this final module, Gabor provides even more insights into the development of suffering by exploring the multigenerational transmission of trauma. Take your confidence with Compassionate Inquiry to the next level as you explore the many levels of compassion and review the "Stepping Stones" of this powerful method. Gabor continues to bring Compassionate Inquiry to life as he demonstrates:
How to work with emotional avoidance in treatment
Exactly what to do if you and your client share similar pain
How to lead your client from the pain of the past to liberation in the present
As a bonus, Gabor wraps up this module by providing resources for further exploration into trauma, as well as psychedelics in therapy.
Gabor Mate's Compassionate Inquiry in Action:
An Experiential Course for the Healing of Deep Traumatic Wounds
Just $299.99 Today — Stunning Savings!
When you register today, you'll receive 2 FREE bonuses (a $179.98 value!)
The Biology of Loss: How to Foster Resilience When Attachments Are Impaired
($119.99 value)
In this CE workshop, recorded at the Networker Symposium conference, Gabor discusses how trauma and emotional stress are often the foundations of other diseases. He'll explore how to unlock natural ability for recovery and healing.
Psychedelics in Modern Healing
($59.99 value)
This Symposium CE workshop spotlights the distinctive client and therapist experiences when integrating psychedelics into therapy. You'll hear how psychedelics can be used for treatment of PTSD, depression, addictions, and more.
---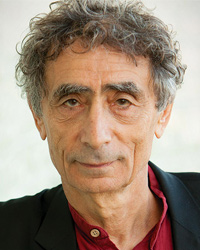 Gabor Maté, MD, is a renowned speaker and bestselling author. Dr. Maté is highly sought after for his expertise on a range of topics including addiction, stress and childhood development.
His Compassionate Inquiry approach draws from his professional work as a physician as well as his personal experience, having suffered trauma as an infant in Nazi-occupied Hungary, and his adult struggles with behavioral addictions, depression, and an ADHD diagnosis.
As an author, Dr. Maté has written several bestselling books published in more than 20 languages on five continents, including the award-winning In the Realm of Hungry Ghosts: Close Encounters with Addiction; When the Body Says No: Exploring The Stress/Disease Connection; and his newest book, The Myth of Normal.
Among other honors, Dr. Maté has received the Hubert Evans Prize for Literary Non-Fiction; an Outstanding Alumnus Award from Simon Fraser University, and the Order of Canada, his country's highest civilian distinction.
Click here for information about Gabor Maté.
---
Frequently Asked Questions
Immediately! You can start on Gabor Maté's Compassionate Inquiry in Action as soon as you register.
Your access to this course is unlimited for as long as you have your account.
Not at all. This online course is designed for all therapists that work with trauma, addictions, or other clinical issues. Gabor will demonstrate the core principles and techniques behind Compassionate Inquiry and then show you, in real time, how his techniques can be used with your clients.

Even if you have trained in Compassionate Inquiry, you'll see unique clinical demonstrations that highlight his techniques in engaging new ways.
---
The Next Steps in Advancing Your Practice
Review the course materials at your own pace and at your convenience! You'll have unlimited access to all course videos and materials online forever. Plus, use the PESI Mobile app to access the course content on your phone or tablet. Choose video or audio-only versions of online courses from the world's best instructors and complete your CE requirements anywhere, anytime, at your own pace.
Instantly collaborate with other professionals on the course materials through interactive message boards. You'll be part of a community of hundreds of practitioners all focused on integrating the most effective trauma techniques, providing valuable opportunities to share insight and experiences and to build your professional network.
100% Satisfaction Guarantee
Register for this intensive training course without risk. If you're not completely satisfied, give us a call at
800-844-8260
.
We're that confident you'll find this learning experience to be all that's promised and more than you expected.
Gabor Mate's Compassionate Inquiry in Action:
An Experiential Course for the Healing of Deep Traumatic Wounds
Just $299.99 Today — Stunning Savings!