Autogenic Training Worksheet from Dr. Jennifer Sweeton
Access the FREE printable worksheet instantly — just enter your email below!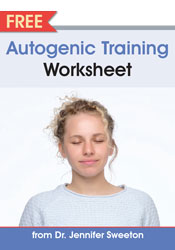 Access the FREE worksheet now!
By signing up, you'll be included in our mailing list and agree to our
Privacy Policy
, so that you can be the first to hear about exclusive CE offers and FREE resources from the best experts in your field!